Part III: Information Systems Beyond the Organization
Chapter 13: Trends in Information Systems
Sidebar: Mary Meeker and Internet Trends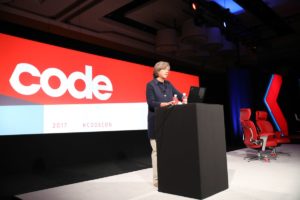 Chapters such as this are difficult to maintain because the future is a moving target. The same goes for businesses looking to figure out where to develop new products and make investments. Enter Mary Meeker, up until 2018 a partner at the notable venture capital firm Kleiner Perkins Caufield & Byers and now forming her own investment group, Bond Capital. For the past several years, Ms. Meeker has presented the "Internet Trends" report at the Code Conference  every May. The presentation consists of rapid-fire summaries of data that provides insights into all of the latest trends in digital technologies and their impact on economies, culture, and investing. For those wanting to keep up with technology, there is no better way than to unpack her annual presentation by watching a video of the presentation and reviewing the associated slide deck.
Here are the last few years of videos of her presentation: 2019 2018 2017
You can view her slide decks from previous years by going to the Bond Capital archive.
---
Autonomous
Another trend that is emerging is an extension of the Internet of Things: autonomous robots and vehicles. By combining software, sensors, and location technologies, devices that can operate themselves to perform specific functions are being developed. These take the form of creations such as medical nanotechnology robots (nanobots), self-driving cars, or unmanned aerial vehicles (UAVs).
A nanobot is a robot whose components are on the scale of about a nanometer, which is one-billionth of a meter. While still an emerging field, it is showing promise for applications in the medical field. For example, a set of nanobots could be introduced into the human body to combat cancer or a specific disease.
In March of 2012, Google introduced the world to their driverless car by releasing a video on YouTube showing a blind man driving the car around the San Francisco area. The car combines several technologies, including a laser radar system, worth about $150,000. While the car is not available commercially yet, three US states (Nevada, Florida, and California) have already passed legislation making driverless cars legal.
A UAV, often referred to as a "drone," is a small airplane or helicopter that can fly without a pilot. Instead of a pilot, they are either run autonomously by computers in the vehicle or operated by a person using a remote control. While most drones today are used for military or civil applications, there is a growing market for personal drones. For around $300, a consumer can purchase a drone for personal use.
Secure
As digital technologies drive relentlessly forward, so does the demand for increased security. One of the most important innovations in security is the use of encryption, which we covered in chapter 6.
Summary
As the world of information technology moves forward, we will be constantly challenged by new capabilities and innovations that will both amaze and disgust us. As we learned in chapter 12, many times the new capabilities and powers that come with these new technologies will test us and require a new way of thinking about the world. Businesses and individuals alike need to be aware of these coming changes and prepare for them.
Study Questions
---